Purtscher's Retinopathy:
22-year-old male with vision loss after trauma
Purtscher's Retinopathy:
22-year-old male with vision loss after trauma
---
Chief Complaint: 22-year-old male presented to the clinic 2 days after a single vehicle motor vehicle accident who complained of decreased vision in the right eye (OD).
History of Present Illness: Patient fell asleep while driving his truck and had no recollection of the crash. He was not wearing a seat belt. His truck had apparently rolled several times. His airbag reportedly had deployed. He was taken to the local emergency treatment center (ETC). There he was noted to have several back contusions, a laceration on the left elbow, and a bruise on his forehead. Computerized tomography (CT) of the head was negative for fracture or intra-cranial bleed. Approximately 1 hour after leaving the ETC, he noticed vision loss OD.
Ocular History: No previous ocular disease history. No eye surgery, no previous eye nor head trauma.
Medical History: No other health issues. Symptoms as noted in History of Present Illness—review of systems was otherwise negative.
Medications: None
Family History: Noncontributory
Social History: Noncontributory
EXAM OCULAR
Visual Acuity: OD— between hand motions (HM) only and counting fingers at 1 foot; OS—20/20-1
Extraocular motility: Full
Pupils: 2.4 log unit relative afferent pupillary defect (RAPD), OD
Intra-ocular pressure: 14 mmHg, OD and OS
External and anterior segment examination: Normal
Confrontation visual fields (CVF): OS—Full; OD—nasal hemifield defect
Figure 1

| | |
| --- | --- |
| | |
| 1A: Superficial retinal ischemia/cotton wool spots are seen in the distribution of the radial peripapillary capillary distribution. A few small hemorrhages are also visable. Note the relative sparing of the optic nerve and peri-venous areas. | 1B: Normal fundus, OS |

Given the patient's history and retinal findings, he was diagnosed with Purtscher's Retinopathy, OD.
Discussion
Angiopathia retinae traumatica was first described by Dr. O. Purtscher in 1910. The retinopathy that now bears his name was discovered in two severely traumatized patients with head injuries (Purtscher 1912). Dr. Purtscher noted glistening white spots and superficial retinal hemorrhages in these patients. Papillitis was also evident. Two years later, he reported three more cases associated with head injury. He proposed a mechanism of lymph stasis secondary to increased cerebral spinal fluid (CSF) pressures and named the condition angiopathia retinae traumatica.
Figure 2: Purtscher's original drawing of his eponymous retinopathy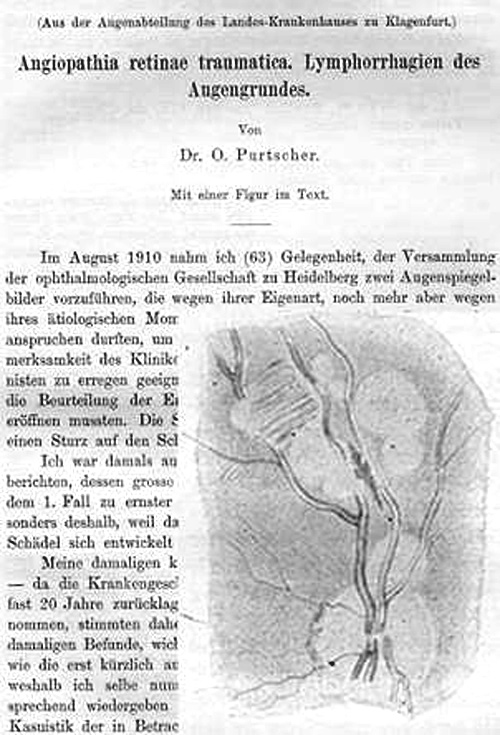 Since that time, the clinical picture first described by Purtscher has been associated with:
Compressive chest injuries
long bone fracture
retrobulbar anesthesia
acute pancreatitis
strenuous childbirth
connective tissue and vasculitic diseases
Patients with Purtscher's (or Purtscher's-like) retinopathy may notice severe vision loss either immediately or up to 48 hours after the event. Vision may decrease to 20/200 or worse and may be unilateral or bilateral. The prognosis for recovery is variable, with roughly 50% of patients complaining of persisting blurred central vision. There is no proven treatment for Purtscher's retinopathy. Though there are anecdotal reports of drug therapies, including megadose corticosteroids (Atabay et al., 1993), improvement in these situations may be related to controlling some type of underlying systemic vasculitis, which has been loosely associated with some cases of Purtscher's retinopathy. Most often, the clinician will simply monitor the patient for visual recovery and ascertain that other injuries are addressed.
Though the exact pathophysiology of Purtscher's retinopathy is not known with certainty, there are three main proposed mechanisms. The classic mechanism proposes that head injury or chest compression generates an intravascular hydrostatic "shock wave" that is transmitted to the retinal vasculature resulting in endothelial damage. This can affect retinal veins, macular capillaries, and radial peripapillary capillaries resulting in the clinical picture seen. However, this does not explain non-traumatic cases of Purtscher's or cases with unilateral involvement. Second, it is proposed that emboli of fat, air, or amniotic fluid can cause the clinical appearance of Purtscher's. In addition, there is a complement mediated hypothesis. Complement C5a is known to be associated with trauma, acute pancreatitis, and systemic vasculitic diseases, and has been proposed to play a role in the development of Purtscher's. By this theory, component C5a initiates leukocyte aggregation and embolization. Leukoembolism in concert with other factors initiates intravascular coagulation of platelets.
Diagnosis: Purtscher's-like Retinopathy (Angiopathia Retinae Traumatica)
EPIDEMIOLOGY

First described by Othmar Purtscher in 1910
True Purtscher's retinopathy, as first described, is associated with traumatic head injury
Other traumatic and non-traumatic causes described above are technically known as "Purtscher's-like" retinopathy, though the original term is often used in conversation and print when applied to a clinical picture of angiopathia retinae traumatica even in the absence of known head trauma
Insufficient data to comment on gender, age, or race predilection

OCULAR SIGNS

Retina

Cotton-wool spots
Peri-papillary retinal whitening with macular involvement
Pre-retinal and/or retinal hemorrhages
Macular edema
Dilated retinal venous system

Optic Nerve

Typically normal, but may have:

Fluoroscein Angiography:

Capillary non-perfusion
Late leakage from injured retinal vessels
Retinal or disc edema
Perivascular staining

SYMPTOMS

"Blindness" or dramatically decreased vision from immediately to 48 hours after injury in traumatic cases
Bilateral or unilateral vision loss

TREATMENT

No proven therapy
Some anecdotal and case reports of megadose corticosteroids, but this is not proven therapy.
Monitor for visual recovery
Treat other associated trauma or systemic disease (i.e., pancreatitis, and systemic vasculitis)
Differential Diagnoses for Purtscher's Retinopathy
Commotio Retinae
Hypertensive retinopathy
Diabetic retinopathy
HIV retinopathy with cotton wool spots
References
Atabay C, et al. Late visual recovery after intravenous methylprednisolone treatment of Purtscher's retinopathy. Ann Ophthalmol. 1993;25(9):330-333.
Behrens-Baumann W, Scheurer G, Schroer H. Pathogenesis of Purtscher's retinopathy. Graefes Arch Clin Exp Ophthalmol. 1992;230(3):286-291.
Purtscher O. Ber Deutsche Ophth Ges 1910;36:294-301.
Jacob HS, Craddock PR, Hammerschmidt DE, Moldow CF. Complement-induced granulocyte aggregation: an unsuspected mechanism of disease. N Eng J Med. 1980;302:789-794.
Purtscher O. Angiopathia retinae traumatica. Lymphorrhagien des Augengrunes. Albrecht Von Graefes Arch Ophthalmol. 1912;82:347-371.
Scheurer G, Praetorius G, Damerau B, Behrens-Baumann W. Vascular occlusion of the retina: an experimental model. I. Leukocyte aggregates. Graefes Arch Clin Exp Ophthalmol. 1992; 230(3):275-280.
Suggested citation format:
Suggested citation format: Maassen J, Oetting T. Purtscher's Retinopathy: 22-year-old male with vision loss after trauma. EyeRounds.org. May 18, 2005; Available from: http://www.EyeRounds.org/cases/39-PurtschersRetinopathyAngiopathiaRetinaTraumatica.htm.
---
last updated: 05-18-2005
---
Image Permissions:
Ophthalmic Atlas Images by EyeRounds.org, The University of Iowa are licensed under a Creative Commons Attribution-NonCommercial-NoDerivs 3.0 Unported License.