Pseudoexfoliation Glaucoma:
65-year-old male with complaints of painless, gradual loss of vision OS
Pseudoexfoliation Glaucoma:
65-year-old male with complaints of painless, gradual loss of vision OS
Andrew Doan, MD, PhD, Young H. Kwon, MD, PhD
February 21, 2005
---
Chief Complaint: 65-year-old male with complaints of painless, gradual loss of vision OS.
History of Present Illness: Patient complained of a painless, gradual loss of vision OS over several months. He saw an eye doctor and was diagnosed with angle closure glaucoma. He was sent to the U of Iowa for evaluation, treatment, and possible laser peripheral iridotomy (LPI).
PMH: healthy, no medications, and no FH of glaucoma.
Exam:
mRx: PLANO OU
Best corrected visual acuities: 20/20 OD, barely hand motion vision OS.
Pupils: >3.0 LU RAPD OS (very large).
EOM: full OU; VF (see below)
IOP: 19 mmHg OD, 71 mmHg OS
DFE: retina exam notable for normal macula, vessels, and periphery OU. Optic nerves: 0.4 C/D OD, almost complete cup OS (see photos below).
SLE: OD notable for 1-2+ nuclear sclerosis cataract, OS see photos below.
Gonioscopy: moderately open angles OU. Not occludable OU. (+) Sampaolesi's line OS.
Figure 1: Gonioscopy

| | |
| --- | --- |
| Pigmented Sampaolesi's line OS (arrow) | Corneal wedge (arrow) denoting location of Schwalbe's line (*) |
| | |
Figure 2: Lens zonules with fluffy, white material seen on gonioscopy.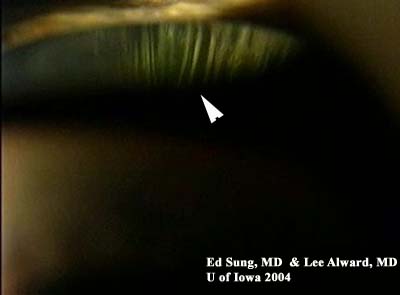 Figure 3: GVF

| | |
| --- | --- |
| GVF OS with severe VF loss | GVF OD - Full Field |
| | |
Figure 4: SLE Photography

| | |
| --- | --- |
| Slit Lamp OS: moderate injection, no cells seen in anterior chamber | Slit Lamp OS: moderate corneal edema, and moderately deep anterior chamber |
| | |
Figure 5: SLE Photography of Lens

| | |
| --- | --- |
| A. Slit Lamp OS: undilated pupil exam notable for white, fluffy material around pupil margin. | B. Slit Lamp OS: dilated exam notable for ground glass appearance of anterior lens capsule |
| | |
Figure 6: Retro-illumination of lens showing the bullseye lesion on the anterior lens capsule.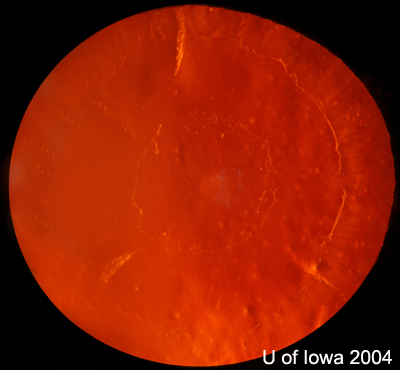 Figure 7: Optic Nerve

| | |
| --- | --- |
| Right Optic Nerve: normal | Left Optic Nerve: almost complete cup |
| | |
Discussion
Pseudoexfoliation Glaucoma
This patient presented with unilateral advanced pseudoexfoliation glaucoma OS (a form of open-angle glaucoma), which is a systemic disease with the eye being the most affected organ. This patient presented with gradual painless loss of vision with a pressure of over 70 mmHg OS. Because the pressure rise OS was gradual, patients may not experience pain and severe cornea edema that is seen with sudden angle closure glaucoma. The angle in this patient was moderately open. Pseudoexfoliation glaucoma can present as a unilateral glaucoma with extremely high IOP. The white, fluffy material deposited on the pupil margin, lens capsule, and angle (Sampaolesi's line) is pseudoexfoliation material. This same material is also deposited in other parts of the body, e.g. the kidney. This patient was treated with topical anti-glaucoma medications and the IOP was controlled in the 30s OS. The visual potential OS was low with only a remnant of vision in the temporal field, and the patient wanted topical medications before considering cyclodestruction of the ciliary body. Because of the low visual potential OS, filtration surgery is not the best option and may place the other eye at risk for sympathetic ophthalmia.
True exfoliation syndrome from exposure to extreme heat (glass blowing) and infrared radiation is rare and is not associated with glaucoma.
Diagnosis: Pseudoexfoliation Glaucoma
EPIDEMIOLOGY

Incidence: 2-200 per 100,000 with increased incidence with age.
clusters in some regions, e.g. Scandinavia (50% of open angle glaucoma).
Age: elderly
Leading cause of unilateral glaucoma in the elderly.

SIGNS

Often unilateral, but may be bilateral with asymmetry
Iris: moth-eaten transillumination defects with deposits at pupil margin
Clumpy "brown sugar" pigment on trabecular meshwork and a Sampaolesi's line.
Ground-glass deposits on anterior lens capsule with target "bulls-eye" pattern.
Elevated intraocular pressure.
Optic nerve cupping.
Iridodonesis (movement of iris)
Phacodenesis (movement of lens)
May cause pupil block secondary to lens subluxation.

SYMPTOMS

Early: asymptomatic
Later: loss of peripheral vision
Advanced: loss of central vision

TREATMENT

Topical anti-glaucoma medications
Laser trabeculoplasty - works well because of the increased pigment of the trabecular meshwork
Trabeculectomy filtering surgery.
Seton or valve surgery.
Cyclodestruction of the ciliary body (last resort).
Cataract surgery does not reduce glaucoma risk.
Cataract surgery may be challenging because of weaken lens zonules and higher risk of lens subluxation into the posterior pole & vitreous loss during phacoemulsification.
Differential Diagnoses of unilateral glaucoma:
Pseudoexfoliation glaucoma
Fuch's heterochromic iridocyclitis
Iridocorneal endothelial (ICE) syndrome
Acute angle closure glaucoma
Trauma, angle-recession & cyclodialysis cleft
Neovascular glaucoma
Tumor
Ischemic central retinal vein occlusion (CRVO) with subsequent neovascular glaucoma
Glaucomatocyclitic crisis
Uveitic glaucoma
Steroid induced glaucoma from ocular injections
Herpetic glaucoma
Asymmetric primary open angle glaucoma (POAG)
Persistent hyperplastic primary vitreous (PHPV, congenital)
References
Alward, W.L.M. Glaucoma: The Requisites in Ophthalmology. Mosby Inc., 2000.
Karger RA, Jeng SM, Johnson DH, Hodge DO, Good MS. Estimated incidence of pseudoexfoliation syndrome and pseudoexfoliation glaucoma in Olmsted County, Minnesota.J Glaucoma. 2003 Jun;12(3):193-7.
Suggested citation format:
Doan A, Kwon YH: Verticillata: Pseudoexfoliation Glaucoma: 65-year-old male with complaints of painless, gradual loss of vision OS. February 21, 2005; Available from: http://www.EyeRounds.org/cases/case8.htm.
---
last updated: 02-21-2005
---
Image Permissions:
Ophthalmic Atlas Images by EyeRounds.org, The University of Iowa are licensed under a Creative Commons Attribution-NonCommercial-NoDerivs 3.0 Unported License.