Congenital Glaucoma
Contributor: David W. Hayes, DO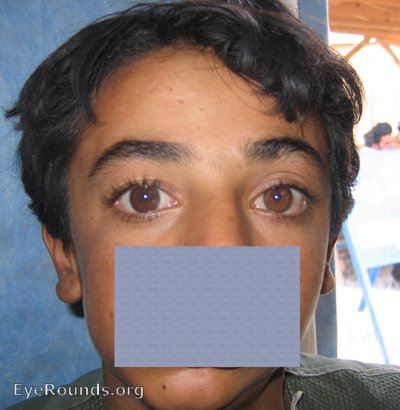 I am a Navy flight surgeon currently serving my second tour here in SW Asia. Due to my interest in Ophthalmology I am working closely with an Egyptian field hospital where I see about 45 local Afghani's a day. As you can imagine in a country of 30 million and very few ophthalmologist, the pathology is amazing.
The EyeRounds Editorial Board welcomes this submission of US NAVY Flight Surgeon Dr. David Hayes, practicing abroad:
"Congenital glaucoma in a 11-year-old Afghani boy. Please note the bilateral buphthalmos."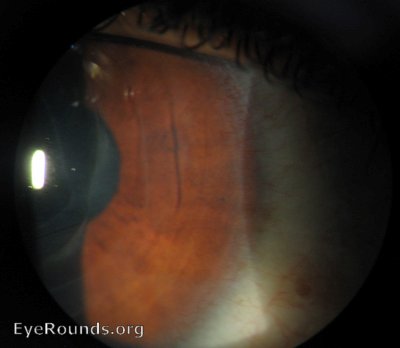 Primary congenital glaucoma (also termed "Infantile Glaucoma") is associated with Haab striae, seen here in slit lamp view of the cornea.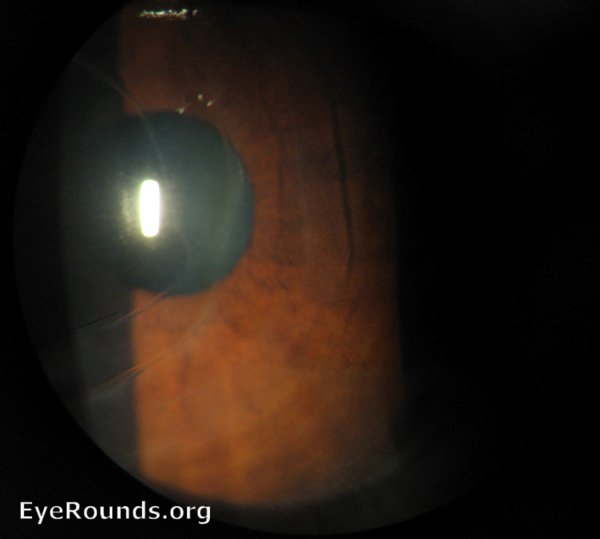 Larger and closer view provides greater detail of these extensive, circumferential breaks in Descemet's membrane.
---

Ophthalmic Atlas Images by EyeRounds.org, The University of Iowa are licensed under a Creative Commons Attribution-NonCommercial-NoDerivs 3.0 Unported License.
last updated: 02-08-2008