Caruncular Edema
Contributor: Kenten Kingsbury; Kelly H. Yom, BA; Aaron M. Ricca, MD; Audrey C. Ko, MD
Photographer: Audrey C. Ko, MD
Posted June 14, 2018
A 74-year-old man with history of active thyroid eye disease (TED) presented with bilateral upper and lower eyelid retraction with fullness and erythema of periocular tissues (Figure 1). The exam was remarkable for bilateral chemosis and left caruncular edema (Figure 2), which are common findings in patients with active thyroid eye disease [1]. Upon attempted closure of the left eye, lagophthalmos and prolapse of the edematous caruncle were noticeable (Figure 3). In cases of caruncular edema, even if the nasolacrimal system is intact, natural tear flow from the lacrimal gland to the punctum may be obstructed. If left untreated, caruncular edema may result in epiphora secondary to occlusion of the punctum [2].
In managing patients with TED, the Clinical Activity Score (CAS) is commonly used to assess trends in disease activity [1, 3]. The CAS is comprised of different clinical findings, such as eyelid redness, pain upon eye movements, chemosis, and swelling of the caruncle. For each positive finding, a point is given; the sum total of points is reported as the CAS.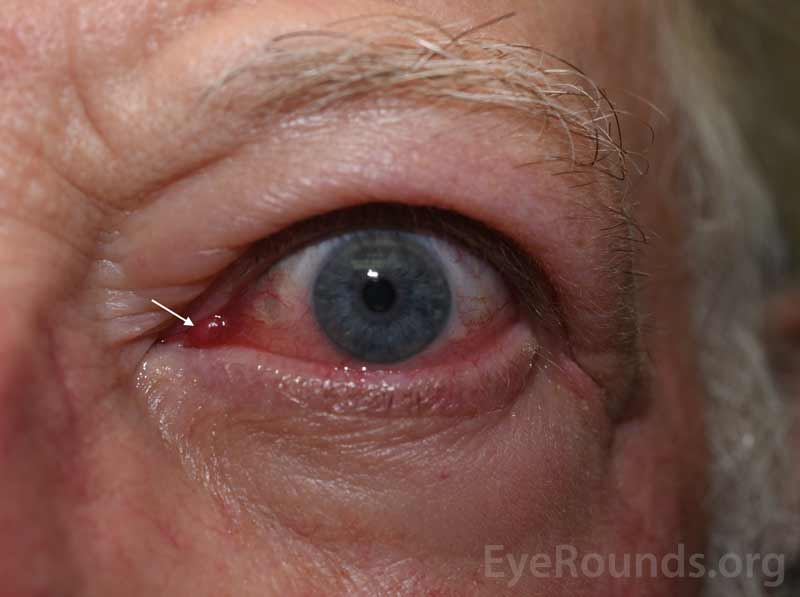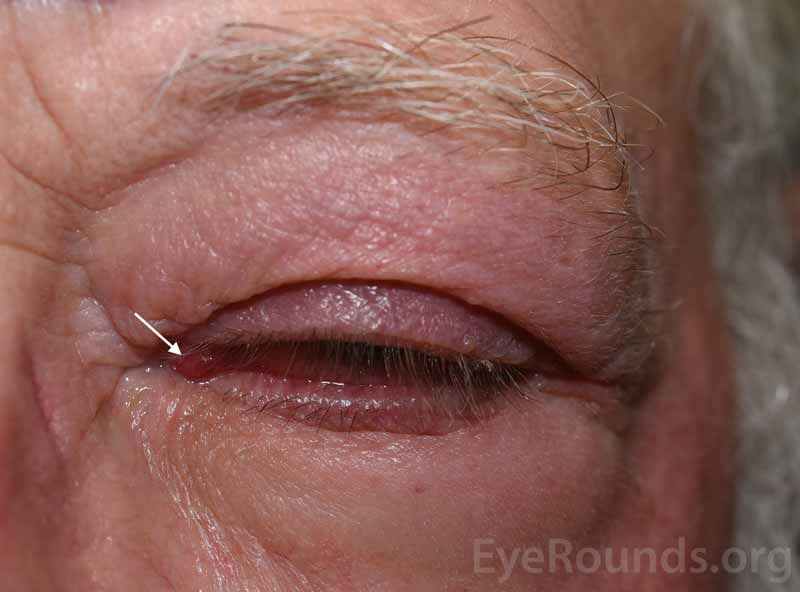 ---

Ophthalmic Atlas Images by EyeRounds.org, The University of Iowa are licensed under a Creative Commons Attribution-NonCommercial-NoDerivs 3.0 Unported License.
last updated: 06/14/2018