Conjunctival lymphangiectasis
Contributor: Christopher A Kirkpatrick, MD
Photographer, Cindy Montague, CRA
Conjunctival lymphangiectasis is a condition in which conjunctival swelling occurs as a result of dilated conjunctival lymphatic channels, most notably on the bulbar conjunctiva. The appearance at the slit lamp will show cystic appearing clear or yellowish, elevated conjunctival lymphatic channel(s) separated by translucent septate walls. Although the actual cause is unknown, the presumed underlying etiology is obstructed lymphatic channels. The condition is thought of as benign, but can be associated with local inflammation, disruption of the tear film/dellen, or secondary hemorrhage (hemorrhagic lymphangiectasia of the conjunctiva).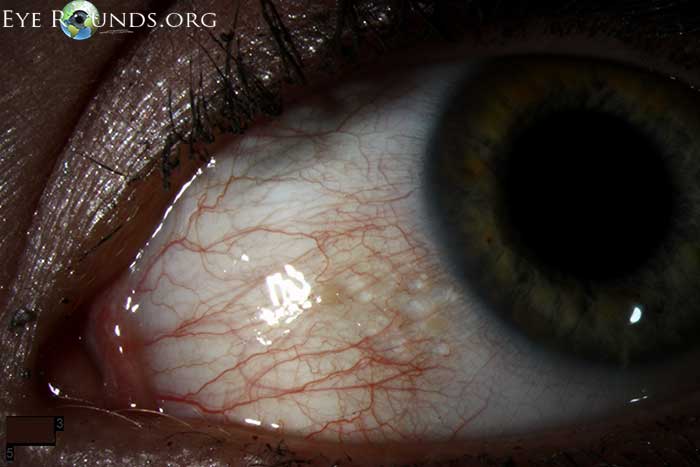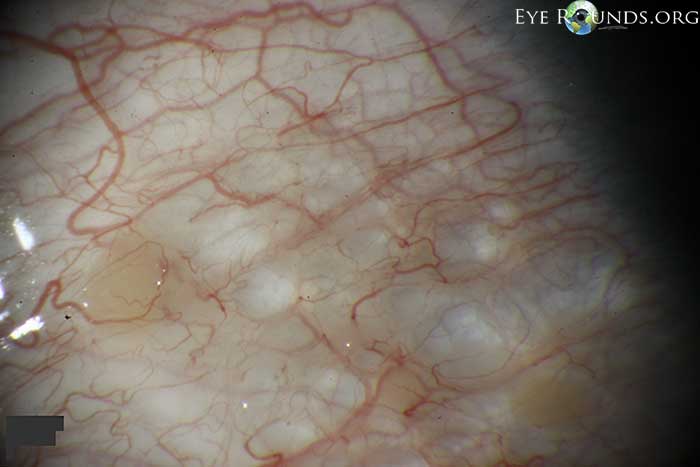 The above pictures show this condition in a young, asymptomatic patient. Included is an anterior segment OCT centered over the area of interest.
---

Ophthalmic Atlas Images by EyeRounds.org, The University of Iowa are licensed under a Creative Commons Attribution-NonCommercial-NoDerivs 3.0 Unported License.
last updated: 1/28/2014