Scleromalacia and Anterior Staphyloma
Contributors: Kelly H. Yom, BA; Aaron M. Ricca, MD; Audrey C. Ko, MD
Photographer: Audrey C. Ko, MD
Posted December 12, 2019
A 63-year-old man presented to the ophthalmology clinic for evaluation of a blind painful left eye. He had a complicated left cataract surgery 45 years ago that resulted in subsequent ocular decompensation and scleromalacia, a degenerative thinning of sclera that allows visualization of the underlying pigmented uvea (Panels A-C). The scleromalacia led to anterior staphyloma, where the protrusion caused eyelid displacement (Panel D) so severe that it touched the lens of his glasses.
Scleromalacia can be caused by other conditions including systemic connective tissue diseases (most commonly rheumatoid arthritis) and inflammatory processes such as vasculitis or infection; local trauma to the sclera may also be an inciting factor [1]. Loss of scleral connective tissue decreases the structural integrity of the globe; as such, scleromalacia confers an increased rupture risk with minor trauma.  It is recommended that patients with this condition wear protective eyewear at all times.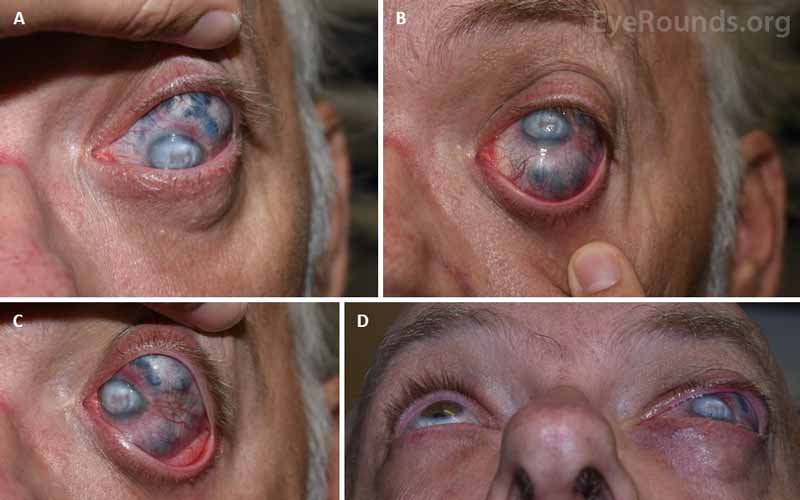 Related atlas entry: Scleromalacia
References
Sims J. Scleritis: presentations, disease associations and management. Postgrad Med J 2012;88(1046):713-718. https://PubMed.gov/22977282. DOI: 10.1136/postgradmedj-2011-130282
---
Scleromalacia and anterior staphyloma in the setting of congenital glaucoma
Contributor: Jesse Vislisel, MD
Photographer: Stefani Karakas, CRA
Posted October 24, 2013
Scleromalacia is a degenerative thinning of the sclera. This photo shows an anterior staphyloma secondary to scleromalacia in a patient with primary congenital glaucoma. In this case, eyelid displacement from the anterior staphyloma was resulting in exposure keratopathy.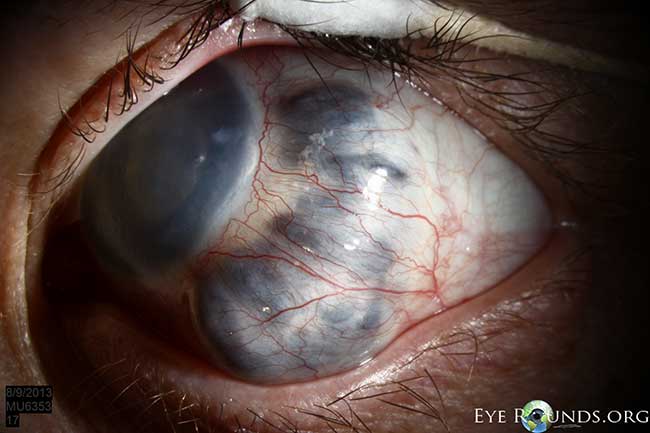 ---

Ophthalmic Atlas Images by EyeRounds.org, The University of Iowa are licensed under a Creative Commons Attribution-NonCommercial-NoDerivs 3.0 Unported License.
last updated: 12/12/2019