Torpedo maculopathy
Category(ies):
Contributors: David A. Ramirez, MD; Scott A. Larson, MD
Photographer: Unknown
Posted September 17, 2020
Torpedo maculopathy is a retinal pigment epithelium (RPE) defect, typically in the temporal macula with a characteristic pointed, "torpedo" shape with one tip pointing toward the macula [1] (Figure 1). Several theories have been offered as to the etiology, including an RPE nevus, a developmental defect in the "fetal temporal bulge" (a developmental structure present during gestation), or failure of the RPE to close overlying the region near the emissary canal of the long posterior ciliary artery and nerve [1,2].
Optical coherence tomography (OCT) findings include outer retinal thinning and thin RPE (Figure 2). Other features may include hypoautofluorescence, hyperfluorescence on fluorescein angiography, and an absolute scotoma corresponding to the lesion location with visual field testing [1].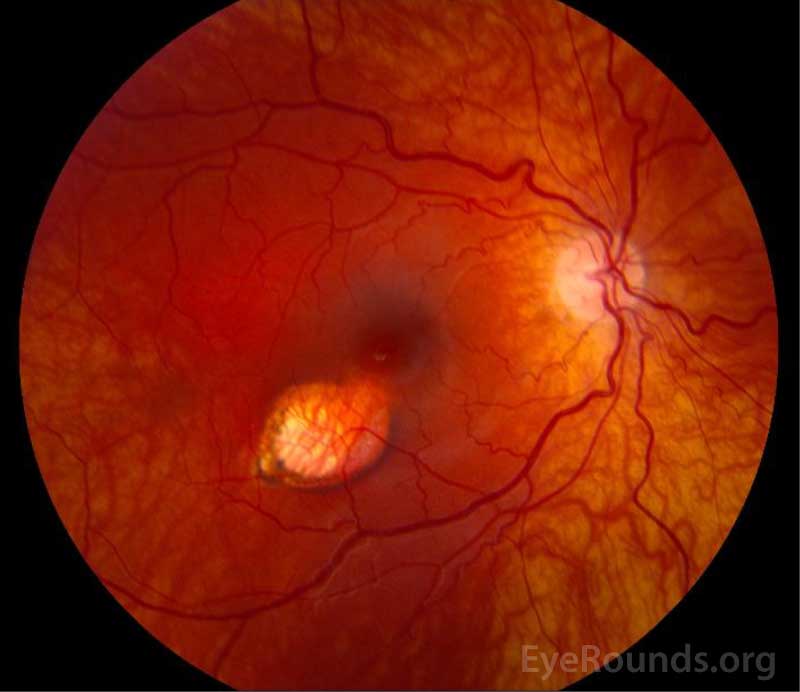 Reference
Golchet PR, Jampol LM, Mathura JR, Daily MJ. Torpedo maculopathy. The British journal of ophthalmology. Published March 2010. Accessed September 2, 2020. https://pubmed-ncbi-nlm-nih-gov.proxy.lib.uiowa.edu/19822914/
Shields CL, Guzman JM, Shapiro MJ, Fogel LE, Shields JA. Torpedo Maculopathy at the Site of the Fetal "Bulge." Arch Ophthalmol. 2010;128(4):499-501. doi:10.1001/archophthalmol.2010.29
last updated: 9/22/2020