Capillary Hemangioma:
4 month-old female with occlusive vascular lesion of right upper eyelid
Capillary Hemangioma:
4 month-old female with occlusive vascular lesion of right upper eyelid
January 31, 2006
August 14, 2015
---
Chief Complaint: 4 month-old female presents with an occlusive vascular lesion involving the right upper eyelid resulting in ptosis.
History of Present Illness: A strawberry-like, compressible area was first noted on the right upper eyelid within weeks of a normal delivery. The lesion has increased in size over the past three months. An intralesional injection of steroid was done without any resultant decrease in size of the mass. Topical and systemic steroid therapies were attempted therafter. On oral prednisone for almost a month, the child became increasingly irritable and there was no noted decrease in size of the lesion. Oral steroids were discontinued. The patient was continued on topical steroid cream only and referred to the University of Iowa Department of Ophthalmology for further evaluation and care. Throughout this time, the local ophthalmologist directed the parents to use part-time occlusion therapy of the child's left eye. At the time of referral, the parents were patching the left eye for 4 hours each day.
Past Ocular History: As noted above.
Medical History: Recent otitis media was treated with amoxicillin. The infant has two small hemangiomas on the toes.
Medications: Topical clobetasol cream (0.05%) applied generously to the right upper lid twice a day.
Family History: Noncontributory.
Social History: Noncontributory.
Ocular Exam:
Visual Acuity, without correction: Right eye (OD)--difficult to open lid well; unable to assess reliably; Left eye (OS)--will fix and follow
Motility: OD--unable to assess; OS--full up, down, left, and right gaze (at least)
Intraocular pressure(IOP): Unable to assess reliably
Pupils: OD--unable to assess reliably; OS--briskly reactive
External and anterior segment examination: OD--unable to assess; OS--normal to portable slit-lamp exam
Dilated fundus exam (DFE): OD--Unable to assess; OS--No pallor or edema of the optic disc. Normal macula, vessels, and periphery
Lids:

Palpebral fissures: R: 1-3mm; L: 11mm
MRD1: R: -2mm; L: -5mm

Ultrasound: no orbital extension
Figure 1: Capillary hemangioma is seen involving the entire right upper lid of the sleeping patient. Even when awake, elevation of the right upper eyelid is severely restricted.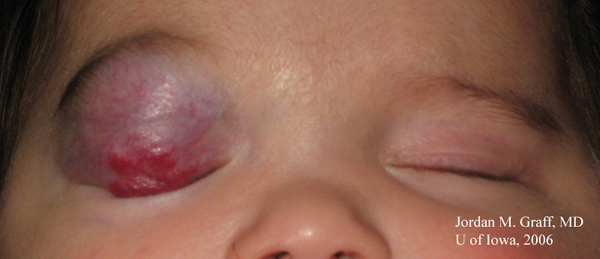 Figure 2

| | |
| --- | --- |
| A: Side view of the upper lid hemangioma demonstrates the elevated nature of the lesion. | B: Stretching the skin of the upper lid clearly shows two distinct portions of the lesion -- an elevated, red area where there is superficial hemangioma and a smooth, bluish-purple area representing a deeper component. |
| | |
Course: The examination and history are consistent with a capillary hemangioma of the right upper eyelid resulting in nearly total occlusion. Orbital echography demonstrated no intraorbital extension of the lesion. Due to the severity of the ptosis, amblyopia is a serious concern in this patient. Strict part-time occlusion of the left eye was continued and repeated intralesional steroid injections were offered. If the lesion continues to severely restrict vision in spite of repeated steroid injections, additional oral steroids or surgical excision should be considered.
Discussion: The history and presenting appearance of this patient are classic for capillary hemangioma. As the name implies, the lesions are made up of masses of very small-caliber vessels, and are created by abnormal growth of vascular endothelial cells.  Therefore, capillary hemangiomas are hamartomas -- abnormal proliferations of tissue in a normal location.  Unlike cavernous hemangiomas, which are usually found within the orbit, capillary hemangioma lesions tend to be less fibrotic, more cellular and typically unencapsulated.  These lesions typically have a low rate of blood flow and are non-pulsatile.
In the vast majority of cases, the history and presentation of a periorbital capillary hemangioma is so typical as to be diagnostic. Caregivers will usually describe a growing red or purple spot that was not present at birth, but becomes larger and thicker over the first few months of life. The lesion will blanch with pressure, which is helpful in distinguishing it from the non-blanching port-wine stain of Sturge-Weber syndrome. While most hemangiomas are not present at birth, more than half of them will manifest by 1-2 months of age and 90-100% of the lesions will be present by 6-8 months of age. The peak size of the lesion is reached by 6-12 months, at which point the hemangioma - left untreated - will remain stable for a time before beginning to involute. In fact, spontaneous involution is the rule for untreated capillary hemangiomas, with progressive involution continuing until age 8. The classic teaching is that 40% of hemangiomas completely regress by age 4 and 80% completely regress by age 8. It is important to educate concerned parents about the natural course of involution.  Nonetheless, a small proportion of these lesions can leave scars or other dermatologic changes to the tissues as they involute.  
Treatment is indicated in cases of amblyopia, astigmatism or bony orbital asymmetry. Initiation of treatment for cosmetic deformity alone may be desired by the family, but this must be approached with caution given the natural course of involution and the potential risks of treatment.
Today, the first line treatment option is an oral beta blocker, such as propranolol.  Topical beta blocker (timolol ophthalmic 0.5%) solution has also been used with good success.  It is recommended that this be done in consultation with someone familiar with use of beta blockers in children.  A preliminary heart rate, blood pressure and ECG are recommended before initiation of treatment.   The most serious side effect to be monitored is hypoglycemia; other side effects include bronchospasm and bradycardia.  In 2013 a consensus conference was held which offered suggestions on treatment of infantile hemangiomas (Drolet, 2013).  In summation, initiation of treatment at a dose of 0.5-1.0 mg/kg/day of propranolol in twice (BID) to three times daily (TID) dosing is recommended.  Then, after 1-2 weeks, this dose can be increased 0.5 mg/kg every 1-2 weeks targeted to a max dose of 2 mg/kg/day.  Treatment is often continued for months until there is regression of the lesions. 
In the past, first line therapy was intralesional steroid injection, with a mixture of long- and short-acting steroid (i.e., 40mg/ml of triamcinolone and 6mg/ml of betamethasone mixed in a syringe). The injection, if performed, should be through a medium-bore needle (i.e., 23-25 gauge) because smaller needles may clog with steroid particles. Though most hemangiomas will be reduced considerably with a single injection (see Figure 3), a repeat injection may be indicated at the 6th week of follow-up. Intralesional steroid treatment carries a risk of soft tissue atrophy, hypopigmentation, glaucoma, and possible systemic absorption. Additionally, there have been exceedingly rare reported cases of central retinal artery occlusion secondary to embolization of depot material from steroid injections (Egbert, 1996).   A meta-analysis (Izadpanah, 2013) comparing corticosteroids versus propranolol showed a pooled response rate to treatment of 69 percent using corticosteroids versus 97 percent using propranolol .
An adjunctive therapy to intralesional steroids is oral steroids (prednisone 1-2mg/kg/day). Due to the increased risks associated with oral steroid therapy (e.g., agitation, changes in sleep pattern, increased risk of infection, osteoporosis, adrenal crisis, etc.), the assistance of a pediatrician, pediatric endocrinologist, or family physician is strongly encouraged. Oral steroids will likely be continued for months and must be tapered with caution due to the risk of adrenal crisis.
Surgical excision is an option as well.  Surgery carries with it the risks of general anesthesia and recurrence of the lesion, but may help to significantly debulk large hemangiomas. Because of the complicated reconstruction that may be needed as well as risk of bleeding, referral to an oculoplastic surgeon is usually best. Throughout the treatment for vision-threatening complications of the hemangioma itself, the ophthalmologist needs to be concurrently minimizing the development of amblyopia. The consultation of a pediatric ophthalmologist may be helpful.
Figure 3

| | |
| --- | --- |
| A: Example of a similar patient with capillary hemangioma of the left upper lid. | B: Significant reduction in the lesion is seen after a single intralesional steroid injection. |
| | |
beam irradiation, interventional radiologic embolization, and various laser treatments (including CO2, argon, and Nd:YAG laser). Pulsed dye laser has also been used with some success, but only in very superficial lesions as usually this laser modality does not penetrate deeper than 1-2 mm. The use of topical steroid creams (e.g., clobetasol) has also been reported, but the response has been both slower and less impressive.
The ophthalmologist should be aware that many children with periorbital hemangioma may also have intraorbital extension of the lesion and/or systemic angiogenic lesions (including pulmonary, soft-tissue and/or skin lesions). B-scan ultrasonography of the orbit is helpful in determining the posterior extent of suspicious lesions while chest or abdominal imaging may uncover other hemangiomas. Some patients with large visceral capillary hemangiomas may develop thrombocytopenia, a condition known as Kasabach-Merritt syndrome. If the child bruises or bleeds easily or angiomatous lesions are suspected, a pediatrician should be involved in the work-up and treatment of the patient.  Other conditions such as PHACE syndrome (PHACE = posterior fossa, hemangioma, arterial lesions, cardiac abnormalities, eye abnormalities - a cutaneous neurovascular syndrome characterized by large, segmental hemangiomas of the head and neck along with congenital anomalies of the brain, heart, eyes and/or chest wall) should also be considered.
---
Diagnosis: Capillary Hemangioma
EPIDEMIOLOGY

Capillary hemangiomas are present in 1-2% of neonates (one of the most common benign periorbital tumors of childhood)
Half of all capillary hemangiomas occur in the head and face
3:1 ratio of females to males

SIGNS

Red or purple elevated, subcutaneous soft mass that will blanch with pressure

Hemangiomas are usually unilateral and located on the eyelid or brow

A mass effect of the lesion may result in significant ptosis of an involved eyelid

Reduced visual acuity may be noted (either due to amblyopia or uncorrected astigmatism from mass effect of a hemangioma on the cornea)

May have both cutaneous and subcutaneous portions of the lesion

Subcutaneous portion may extend into the orbit causing painless, non-pulsating proptosis of the involved eye

SYMPTOMS

Care-givers usually notice a red or purple lesion

>50% of lesions evident by 1-2 months
90-100% of lesions evident by 6-8 months

Amblyopia is seen in approximately 50% of patients with eyelid hemangioma

Symptoms of reduced vision may be noticed

In rare cases with associated thrombocytopenia, a propensity for easy bruising or bleeding may be noted

Kasabach-Merritt syndrome is a consumption coagulopathy with mortality rates that may approach 40-50%

TREATMENT

Spontaneous involution is the rule - observation may be appropriate

40% completely involute by age 4
80% completely involute by age 8

In cases of occlusion amblyopia or significant astigmatism, prompt treatment should be initiated:

Propranolol titrated to a maximum dosage of 2 mg/kg/day in TID dosing.
Intralesional steroid injection with a mix of long- and short-acting steroid (i.e., 40mg/ml of triamcinolone and 6mg/ml of betamethasone mixed in a syringe and injected through a medium-bore needle)
Oral prednisone (1-2mg/kg/day given with the involvement of the child's pediatrician - treatment is usually for months with a slow taper)
Surgical excision (for debulking - the lesion is not encapsulated and there is a risk of recurrence. Anticipate bleeding and control with cautery)

Other treatments have been described (i.e., topical steroid, radiation, embolization, and a variety of lasers), but they are considered somewhat controversial and not used routinely
Differential Diagnoses:
Vascular malformation (i.e., lymphangioma or arteriovenous malformations)

These, however, are present at birth and persist into adult life

Nevus Flammeus (port-wine stain)

seen in Sturge-Weber syndrome and Klippel-Trenaunay-Weber syndrome
Port-Wine stain will not typically blanch with pressure - - a capillary hemangioma will usually blanch

Neuroblastoma, metastatic

with painless proptosis and spontaneous hemorrhage (red or ecchymotic lids), neuroblastoma can be mistaken for either trauma or deep hemangioma
References
Boon LM, MacDonald DM, Mulliken JB. Complications of systemic corticosteroid therapy for problematic hemangioma. Plast Reconstr Surg 1999;104(6):1616-23.
Cruz OA, Zarnegar Sr, Myers SE. Treatment of periocular capillary hemangioma with topical clobetasol propionate. Ophthalmology 1995;102(12):2012-5.
Drolet BA, Frommelt PC, Chamlin SL, Haggstrom A, Bauman NM, Chiu YE, Chun RH, et al.  "Initiation and use of propranolol for infantile hemangioma: report of a consensus conference." Pediatrics. 2013 Jan;131(1):128-40. doi: 10.1542/peds.2012-1691. Epub 2012 Dec 24.
Egbert JE, Schwartz GS, Walsh AW. Diagnosis and treatment of an ophthalmic artery occlusion during an intralesional injection of cotricosteroiid into an eyelid capillary hemangioma. Am J Ophthalmol 1996;121(6):638-42.
Haik BG, Karcioglu ZA, Gordon RA, Pechous BP. Capillary hemangioma (infantile periocular hemangioma). Surv Ophthalmol 1994;38(5):399-426.
Izadpanah A, Izadpanah A, Kanevsky J, Belzile E, Schwarz K.  "Propranolol versus corticosteroids in the treatment of infantile hemangioma: a systematic review and meta-analysis." Plast Reconstr Surg. 2013 Mar;131(3):601-13.
Nerad JA. The Diagnostic Approach to the Patient with Proptosis. In Oculoplastic surgery: the requisites in ophthalmology, St. Louis: Mosby; 2001; p. 377-378.
Ranchod TM, Frieden IJ, Fredrick DR. Corticosteroid treatment of periorbital haemangioma of infancy: a review of the evidence. Br J Ophthalmol2005;89(9):1134-8.
Wilson, M.W. Hoehn ME, Haik BG, Rieman M, Reiss U. "Low-dose cyclophosphamide and interferon alfa 2a for the treatment of capillary hemangioma of the orbit." Ophthalmology 2007;114:1007–1011.
Suggested citation format:
Lenci LT, Carter KD. Revision of [Graff JM, de la Garza AG, Carter KD. Capillary Hemangioma: 4 month-old female with occlusive vascular lesion of right upper eyelid. January 31, 2007.] EyeRounds.org. August 18, 2015; Available from: http://www.EyeRounds.org/cases/57-capillary-hemangioma-eyelid.htm.
---
last updated: Posted 1/31/2007. Major Revision 08/18/2015
---
Image Permissions:
Ophthalmic Atlas Images by EyeRounds.org, The University of Iowa are licensed under a Creative Commons Attribution-NonCommercial-NoDerivs 3.0 Unported License.