First and Second Year
Preclinical Course Grades
It is important to study diligently for your basic science courses during your first and second years of medical school and to earn as many Honors and Near Honors grades as possible.  While these grades are not weighted as strongly as your grades in clinical rotations according to Nallasamy's study, they will still appear on your transcript.  Furthermore, they are tremendously important in being elected into the Alpha Omega Alpha (AOA) Medical Honor Society and mastering knowledge of the basic sciences will prove useful when it comes time to take the USMLE Step 1 Board Exam the summer between your second and third years of medical school.   
Extracurricular Activities
Aside from grades, you should choose several extracurricular activities to pursue.  These may include student organizations, student government, tutoring, service projects, or other activities.  There are many volunteer opportunities available in the Iowa City area and research positions are easy to acquire as a medical student.  If you are a student at Iowa, you should pursue one of the Research, Service, Humanities, Teaching, or Global Health Distinction Tracks to gain official recognition for your activities.  Finally, apply for as many scholarships as possible as there is a rather large section on the application specifically for awards.  It is best to get involved with these activities early as time does not become any more abundant during your third year.
USMLE Step 1 Board Exam
Before you may start your third year in the wards, you must take and pass the USMLE Step 1 Board Exam.  Your score on this exam is extraordinarily important when pursuing a competitive specialty (3).  Many programs use this score as a screen to determine which applications to review, so if you score poorly the admission committee may never see the rest of your stellar application.  In her study, Nallasamy found that 78% of programs used Step 1 scores as a factor in their selection process and 51% used the scores to decide who to call for interviews (2).  This practice was especially prominent in more competitive programs and academic programs.  For this reason, be prepared to dedicate a significant amount of time and resources on this exam.  Overall, average Step 1 score have climbed for both matched and unmatched applicants (Figure 1) (1).  In 2008, those who matched averaged 232 (and un matched scored 212) while in 2015 and 2017, those who matched averaged a score of 243 while those who did not match in 2017 averaged 227.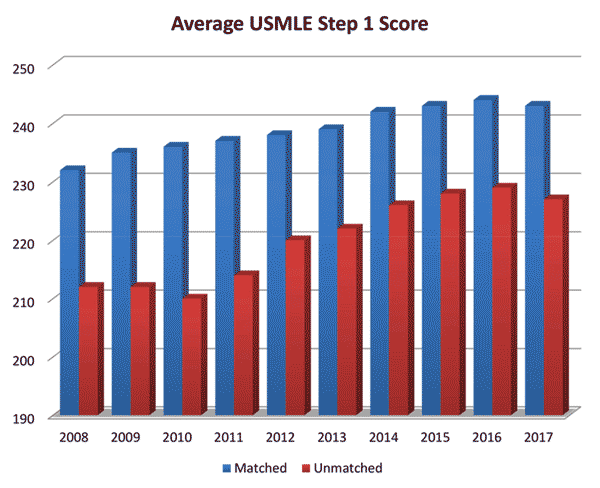 Figure 1.  Average USMLE Step 1 Board Exam score for matched and unmatched applicants (1).
last updated: 9/6/2017; originally posted 8//13/2015