Fourth Year
Electives
Most students choose to schedule an ophthalmology elective early in their fourth year as this allows them to obtain a letter of recommendation from a faculty member before they have to submit their application.  To meet time constraints, this rotation must be scheduled within the first 2 scheduling blocks of the year according to Iowa's rotation schedule.  While the second scheduling block can work in a pinch, it is not ideal as you will have to ask for and receive your letter before even finishing the elective if you are planning on submitting your application early in the timeline.  At Iowa, there are established clinical rotations in the cornea and neuro-ophthalmology clinics.  You may also arrange personalized rotations in nearly any department if you contact the medical education coordinator, Dr.Pavlina Kemp. 
Away Rotations
You may elect to arrange for an away rotation at another institution.  Many students choose to do this, although it is by no means mandatory.  Away electives may help you get a foot in the door, and can increase your likelihood of matching at the institution where you are rotating.  Bear in mind, the opposite can also be true.  If you do not make a good impression during the clerkship, you may actually hurt your chances.  Doing an away rotation does not guarantee you an interview spot at that institution and does not affect your odds of matching at other institutions.  It is also worth mentioning that most other schools do not run on the same schedule as Iowa, so if you are an Iowa student rotating elsewhere, you will likely have to use a week of vacation time both before and after the rotation.  If you are not planning on using the elective for a letter of recommendation, you can save 1 week of vacation by scheduling your away as your final elective before your time off for interview season.
USMLE Step 2 Board Exams
Students must take two more Board Exams during their fourth year.  These include Step 2 Clinical Skills (CS) and Step 2 Clinical Knowledge (CK).  The CS exam only requires a few days of review as it is based around simulated patients.  It is graded on a strictly pass-fail basis and may be scheduled any time before the New Year.  Scheduling the CK exam is a bit trickier and depends on how you did on Step 1.  If you did well on Step 1, I would advise not taking Step 2 CK until December to avoid jeopardizing your application.  Another good score will likely not help your application much, while a poor score could lead to disaster!  If taken in December, you will not receive your score until after the match.  On the other hand, if you were unhappy with your Step 1 score, an outstanding Step 2 CK score can give your application a needed boost.  In this scenario, it is in your favor to schedule the exam early.  There is a "sweet spot" in late fall where your score comes back too late to be sent out with your application, yet you have it before interviewing.  You then have the choice of revealing your score to programs if you did well, or concealing it if you did not do as well as you had hoped.  Most people study at least 1-2 weeks for the CK exam.
Alpha Omega Alpha (AOA)
AOA Honor Society status is awarded in two waves – one in March of your third year and one in late August of your fourth.  Unless you were selected during your third year, you will not know if you obtained AOA status prior to submitting your application if you are sticking to the recommended timeline.  On the CAS form, there is an AOA status radio button to select "yes" or "no" – do not click either if you were not elected in your third year as it is still uncertain whether you will be elected during your fourth.  On your main online profile (not within the CAS application), there is a section for your board scores and AOA status.  Here they include an "unknown" button which you may select.  You may not revise your CAS application after submitting it, but you can change this main profile page to reflect AOA status updates.  The timing of the AOA selection during your fourth year works in your favor if you do not think you will make AOA as this will not be shown on your application ("unknown" looks much better than "no").  AOA status is not essential and most matched applicants are not AOA members, but it does significantly increase the odds of matching (Figure 2) (3).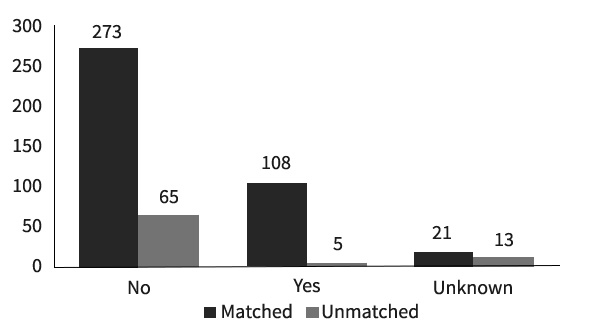 Figure 2.  Match results by Alpha Omega Alpha (AOA) Honor Society membership (3).
Time Off
While interviewing, I was amazed that many other schools allowed their students to skip weeks of their rotations at a time for interviews without using vacation.  If you attend Iowa, you will want to schedule time off during interview season.  The Carver College of Medicine has a policy in which you are only guaranteed 1 day off per week during November and December.  Optimistically, you may have 10-12 ophthalmology interviews and another 5-10 interviews for your intern year.  Factor in social dinners and realistic travel time, and it would be near impossible to meet the requirements of any clerkship during interview season. 
If you absolutely do not wish to schedule vacation for interviews, you may be able to arrange for a more flexible rotation during this time, such as a research elective.  Research electives are difficult to secure during this timeframe as many students, including those applying to other specialties, will be requesting them.  Many other students are going to want vacation time during this period as well, so it is important that you rank it highly on your preference list.  Use your #1 preference rank for your early ophthalmology elective and your #2 rank for your vacation or research elective.  Don't fret if a clerkship ends up being scheduled during your vacation despite your best efforts.  If this happens, contact Marcia Hopp and notify her of the problem.  It is very likely she will be able to help you rearrange your schedule before interview season rolls around.
last updated: 08/13/2015